CPD is looking to more than double the representation of African Americans in the department
CHATTANOOGA, Tenn. (WDEF) – CPD is making efforts to close the gap between the percent of minority officers in the department and the percent of minorities in the community.
The Chattanooga Police Department held a recruiting event Thursday.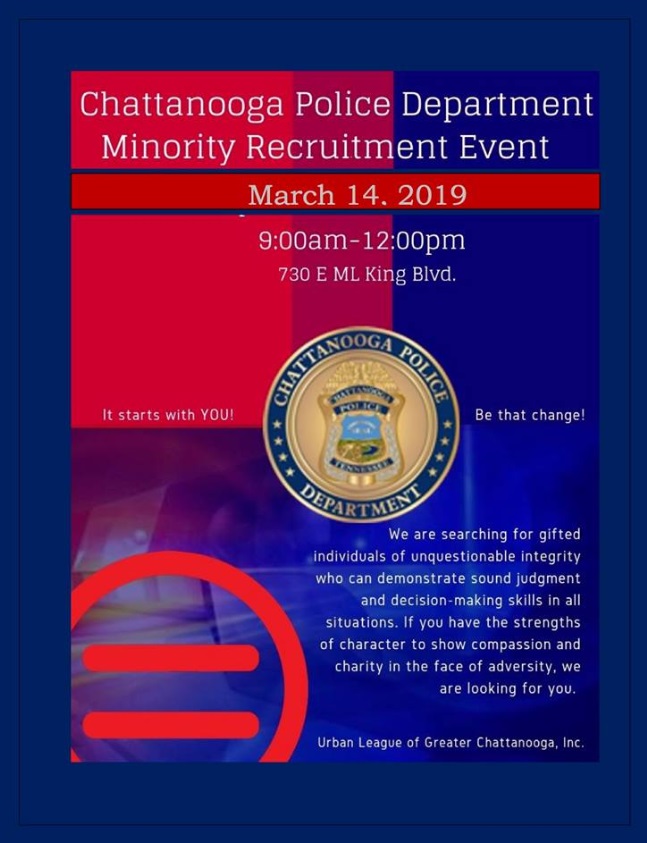 They tell us that 15% of the department are African American. They would like for at least 35% of the department to be African American.
"The culture difference is a lot of times from one socioeconomic background to another creates mistrust. Ignorance breeds fear so having that diversity, I think, helps build that trust," says Sgt. Joe Shaw.
Officers believe it's an honorable job and they say they want more minorities so that they are better represent the community.
They are looking to more than double the representation of African Americans in the department.
Sgt. Shaw says, "we try to reach out and say listen, this is a viable option, this is a great career, they are good benefits and there are challenges. They are typically something that you will enjoy facing and overcoming so we invite the people to put in and be apart of our team."
The Recruiting team of Chattanooga Police Department is hoping to grow their team into a department that looks a little more like the community they serve.
Recruiter Moreland Wilson, with Chattanooga Police, says, "we want to reflect of the demographics of our city and so right now, in terms of black officers within the agency, we are at 15%. We need to be at least at 35 to 40% and that's what the demographics of our city reflects."
They realize that there is a lack of trust with some people in the African american community and that keep people from applying. As well as the perception of the blue uniform or unfavorable encounters with police.
They hope to build that trust one interaction at a time.
They also understand that there are draw backs about their profession and they hope to help people understand more about they do for the greater good of the city.
Officer Wilson says, "there are challenges with every job, no matter what industry or what profession you choose to go into. At the end of the day, if it is something that you really enjoy doing, you will look at the positives more than the challenges and even within the challenges, it is something that will make you work even harder to get over the hurdles or obstacles that you may see."
"Not ever call unfortunately do you come away with a warm feeling that you help someone but in the big picture it is necessary and that is what we do day in and day out," says Sgt. Shaw, "Everything we do is with the big picture in mind to make the community a better place to live."
Officer Wilson says, "you can do ride-alongs at the age of 18 so I would encourage everybody whether you are in high school or if you just have a desire to become a law-enforcement officer and just do a ride a long and see what an officer does on the day-to-day basis and say pretty much this is what I want to do."