Disabled veteran hit with $12K bill for life insurance plan he never signed up for
WASHINGTON — Thousands of America's wounded warriors are being forced to pay for life insurance they don't want — and can't even use.
In 2007, six weeks after Matt and Tracy Keil were married, he was shot in the neck by a sniper in Iraq.
"I currently have no feeling from the chest down or movement either but I am able to move my left arm," Matt said.
"It changed everything," said Tracy. "It was nothing other than love that was the same."
CBS News
They were doing as well as could be expected, raising 7-year-old twins, until last February when they received a letter. It said they owe $12,791.14 in unpaid premiums on a life insurance plan Matt didn't realize the Pentagon had automatically issued to him when he left the army.
That's because Matt is already covered by a free life insurance policy from the Department of Veterans Affairs. Tracy can't collect on both policies, so the one they're being billed for is worthless, and they never wanted it to begin with.
"We were automatically enrolled into the program at the highest level of coverage," Tracy said.
Matt went online to figure out how that happened. He found a form that says "automatically covered at the maximum rate" unless he submitted a form declining the coverage.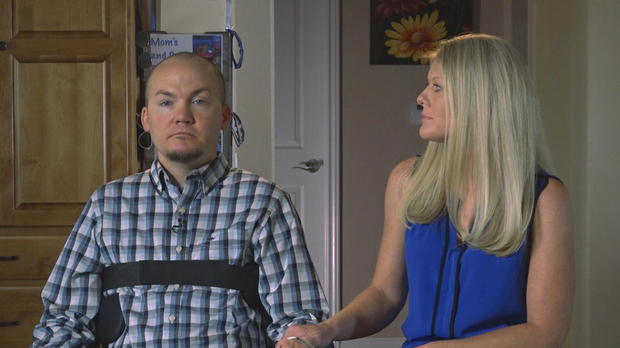 CBS News
At the time, Matt says he was on his back "paralyzed from the neck down, hooked up to a ventilator."
Future premiums will be taken out of his disability check.
"I don't understand why I'm being forced to pay into a program that I ultimately can't benefit from or that my wife can't benefit from," Matt said.
He's one of 19,000 disabled veterans who received the letter from the Defense Finance and Accounting Service (DFAS), which handles all of the Pentagon's financial transactions.
"We're angry. We are very angry," Tracy said. "But it's not just about us."
On Facebook, 260 veterans have joined a group comparing how much they owe and how much is being taken out of their disability checks.
"We're all trying to figure this out," Tracy said.
The bills for unpaid premiums range from $1,000 up to nearly $29,000, and the monthly deductions start as low as $16 and go up to $389. Matt's disability check is being docked at $137.20.
"My life's hard enough. I had to fight every step of the way for everything I've had. Now I'm fighting for something that I don't want to be part of and never thought I was," Matt said.
It is possible under certain circumstances to drop the life insurance. Some members of the Facebook group have sent in a termination notice, but been told they used the wrong form. Matt and Tracy Keil are still waiting for a response.
© 2018 CBS Interactive Inc. All Rights Reserved.