Grand Jury: Justin Whaley "unlawfully and recklessly" killed James Brumlow in 2018 crash
HAMILTON COUNTY, Tenn. (WDEF) – Justin Whaley has been indicted by a grand jury in the 2018 crash that killed James Brumlow.
Whaley is accused of driving drunk and going the wrong way down Highway 111 July 3rd.
Whaley's full list of charges includes speeding, failure to yield right-of-way, failure to maintain lane, driving under the influence, vehicular homicide by intoxication, drivers to exercise due care, reckless driving, and crossing highway divider or median.
Back in August, Whaley requested a reduced bond and it was granted.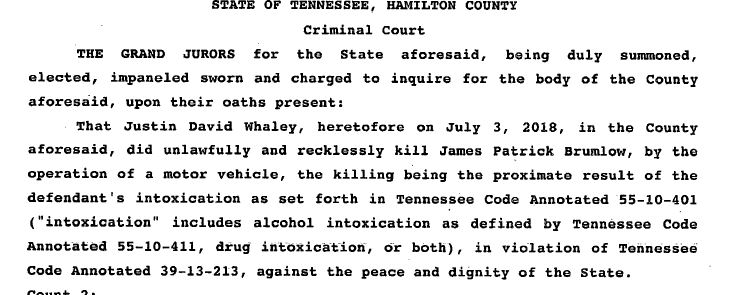 Whaley is a former reserve deputy for the Hamilton County Sheriff's Office.