John Legend on Global Citizen's $1B fight to end extreme poverty
Global Citizen announced today that, as part of its campaign to end extreme poverty, it will bring its festival to South Africa for the first time. The December 2 Global Citizen Festival concert at FNB Stadium in Johannesberg will mark this year's 100th anniversary of the birth of civil rights icon and former South African president Nelson Mandela.
Among the announced talent for the concert are Beyoncé, Jay-Z, Ed Sheeran, Eddie Vedder, Pharrell Williams, Chris Martin and Usher.
As part of the organization's "Be the Generation" campaign, beginning August 21, free tickets to the concert can be earned via the Global Citizen social advocacy platform.
Appearing on "CBS This Morning" Monday, singer-songwriter John Legend, who has long been a performer and supporter of Global Citizen, talked about the partnership between the House of Mandela and Global Citizenship.
"We're celebrating Mandela's 100th birthday this year, and so we wanted to throw a concert in South Africa to celebrate that and to focus on the goal of ending extreme poverty," Legend said. "We believe we can do it, and we've made a lot of progress. A lot of organizations over the years have been working toward this goal, and Global Citizen is mobilizing folks and mobilizing resources so that we can really focus on this goal of ending extreme poverty. And what better way to do that than celebrating Mandela's birthday in South Africa?"
In 2005 Mandela said, "Overcoming poverty is not a gesture of charity; it is an act of justice. It is the protection of a fundamental human right, the right to dignity and a decent life."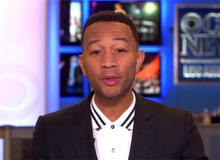 CBS News
Co-host Norah O'Donnell asked Legend, "How do these concerts move toward helping to end poverty?"
"We focus a lot of people's energy and attention on this issue, and we raise a lot of money," he replied. "The concerts themselves aren't necessarily doing all the money-raising, but I believe attention that's brought to the issue through the concerts is really a big part of mobilizing money. And this year we're trying to mobilize a billion dollars toward this goal."
Legend said that, beyond the music, the message behind the concerts is that we are all global citizens, "that we're all in this together, that we should look at human beings who live across the world as our neighbors, as our brothers and sisters, and that we should do what we can to come together and end extreme poverty and make life more livable for people all around the world."
Co-host Gayle King asked Legend how he gravitated toward issues of social justice at a young age.
"I was always inspired by Dr. King, I was inspired by Gandhi, other people that sacrificed themselves to make the world better for other people," he said. "Those are my heroes when I was a kid. And I also wanted to be a musician, but I always believed if I were going to be a successful musician, that I was going to use my platform to try to make the world better for other people."
Playing in South Africa today underscores the power of protests by musicians during South Africa's apartheid era. Talking about that evolution, Legend said, "I think musicians and artists have always had a role in speaking truth to power, telling the truth as we see it, mobilizing people, inspiring people, bringing people together. And I think we should continue that role as artists, continue to try to make a difference.
"And as we entertain, as we bring people together, preach a message of love and unity over division and hate."
© 2018 CBS Interactive Inc. All Rights Reserved.