'Market Baketacular' featured at the Chattanooga Market on Sunday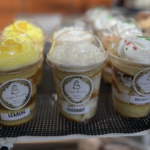 CHATTANOOGA, Tenn. (WDEF)- This Sunday, the Chattanooga market featured their Market Baketacular.
The event focused on "in-house" bakers who sell from the market each weekend.
There were sweet treats, breads and more.
The "Sunday Funday" took place from 11 a.m. to 4 p.m. at the First Horizon Pavilion, and the 'cake walk' began at 1:30 p.m. at Lodge Cast Iron Sizzle Stage.
One long time baker, named "The Sugar Shoppe," even donated prizes.