Massive manhunt after gangster's brazen helicopter prison break
As many as 2,900 police officers were on the hunt Monday for France's most infamous criminal after he broke out of prison — for the second time — on Sunday. As CBS News correspondent Charlie D'Agata reports, if the case looks like something out of a Hollywood movie, that's no coincidence.
In cell phone video taken inside the prison compound during the brazen bust on Sunday, inmates can be heard cheering, and you can just about make out a helicopter flying off into the distance.
On board that helicopter, French police say notorious gangster Redoine Faid made his escape.
It started when heavily armed men took a terrified flight instructor hostage at a nearby flying club, hijacking his helicopter. They forced him to land at the one part of the Reau Prison compound that does not have anti-aircraft netting.
IBO/Sipa via AP
After landing, two masked men armed with assault rifles used smoke bombs and angle grinders to make their way to the prison visiting room, where Faid was meeting his brother.
The unarmed wardens weren't about to argue; the getaway was over in less than 10 minutes, without a shot being fired.
Police found the chopper dumped by a highway about 40 miles away, the insides torched. The pilot was also found, shocked but unharmed.
Later, two getaway cars were also found, one abandoned in a shopping center, both also torched.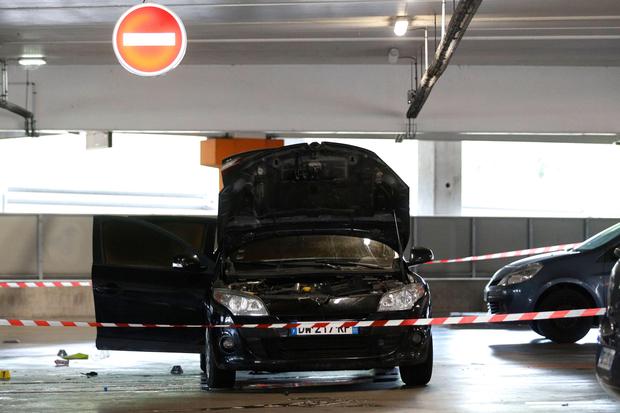 Getty
France's most recognized gangster has said he modelled his infamous 1990s bank and armored car heists on Hollywood crime thrillers like "Heat," once even personally thanking movie director Michael Mann for being his "technical advisor."
In 2009 Faid was released from prison after serving 10 years, and he wrote a confessional book and did numerous television interviews, swearing he'd turned himself around and abandoned crime.
He was arrested again in 2011 for his role in a botched robbery in which a 26 year old policewoman was killed, though Faid said he had nothing to do with her death.
Serving a 25 year sentence for murder, Faid managed to escape prison once before, blowing his way out of jail in 2013 using explosives that were hidden in packs of tissues. He was hunted down six weeks later.
The French justice minister has said drones were seen flying over the prison in the days leading up to what she called a "spectacular escape."
There was no netting over the part of the prison where the helicopter landed because inmates only spend time there when they're getting ready to leave, officials have said.
© 2018 CBS Interactive Inc. All Rights Reserved.