Meghan Markle takes first joint trip with Queen Elizabeth
Britain's newest royal is being put to the test today. Meghan Markle, Duchess of Sussex, joined Queen Elizabeth for her first royal engagement without her husband, Prince Harry. The queen and the former actress rode the royal train to the city of Chester, in northwest England, for a busy day of events.
The crowds gave the queen and Meghan a warm welcome as they made their way to the local town hall where they had lunch.
Less than a month on the new job, Meghan is still getting the hang of royal protocol.
WPA Pool / Getty Images
After the royal train arrived at a local station, there appeared to be a bit of confusion over who should get in the car first. But from then on, things went more smoothly.
Meghan oversaw the official opening of her first bridge and her first theater, something Queen Elizabeth has done countless times over the years. Though it's Meghan's first engagement without Prince Harry, she does have the queen by her side, giving her the royal seal of approval and showing once more that the new duchess is being welcomed to the family.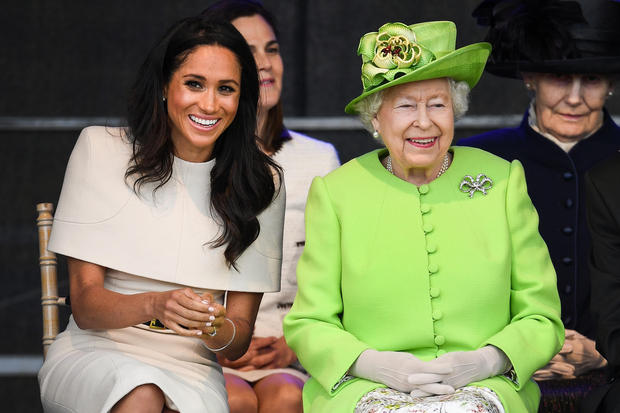 Jeff J Mitchell / Getty Images
© 2018 CBS Interactive Inc. All Rights Reserved.