Non-profit homeless organization graduates four men and baptizes two after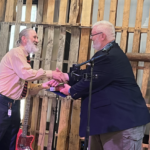 CHATTANOOGA, Tenn. (WDEF)- Non-profit homeless organization, Union Gospel Mission, celebrated the success of its clients today in more ways than one.
Four men participated in a "Graduation Ceremony," and two of them were baptized shortly after.
They presented "Certificates of Completion" to the men who completed their Residential Programs.
The organization asks those to remember, with summer months ahead, they are in need of help with donations and supplies.
Gallon sized baggies filled with toiletries, sunscreen, socks, bottled water/spots drinks and snacks are needed to distribute to the unhoused community.
Monetary support can be given by visiting www.theuniongospelmission.org or by mail to PO Box 983, Chattanooga, TN, 37401.
In kind resources can be brought to The Union Gospel Mission located at 124 Signal Hills Blvd., Chattanooga, TN, 37405, gift cards to Walmart and Food City are also accepted.