Parole denied for Drano killer Judith Ann Neelley
MONTGOMERY, Alabama (WDEF) – The Alabama Board of Pardons and Paroles have rejected granting parole to convicted killer Judith Ann Neelley.
It took them just one minute of deliberations.
Neelley and her husband, Alvin, were convicted of kidnapping 13 year old Lisa Ann Millican from a mall in Rome, Georgia in 2982.
They took the girl to a motel in Dekalb County, where Judith chained her to a bed and Alvin raped her repeatedly.
The couple then took the girl to the Little River Canyon where Judith injected her with Drano several times.
When that failed to kill her, Judith shot her in the head and pushed her into the Canyon.
Weeks later they were arrested in Murfreesboro.
They confessed to the rape and murder of another young woman.
Alvin was given a life sentence for that crime and died in a Georgia prison.
Judith was given the death penalty in Alabama, but it was commuted by an outgoing Governor in 2002.
Now 36 years later, she was eligible for parole again.
But family members of the victim continued to pressure the board to reject the parole because of the viciousness of the crime.
Sheriff Mark Shrader even told the board that if they released Neelley, he would drive to Alabama to bring her back to Chattooga County to serve the life sentence she still owes Georgia for the other victim.
(The video above comes after she agreed to plead guilty to the Chattooga murder)
But after today, Neelley will not be eligible again for parole until 2023.
This is the letter that Sheriff Mark Shrader sent to the parole board.
Sheriff says, "It is of my opinion that, in the interest of justice, Neelley should never be paroled for her actions in the brutal death of 13 year old Lisa Millican in the State of Alabama."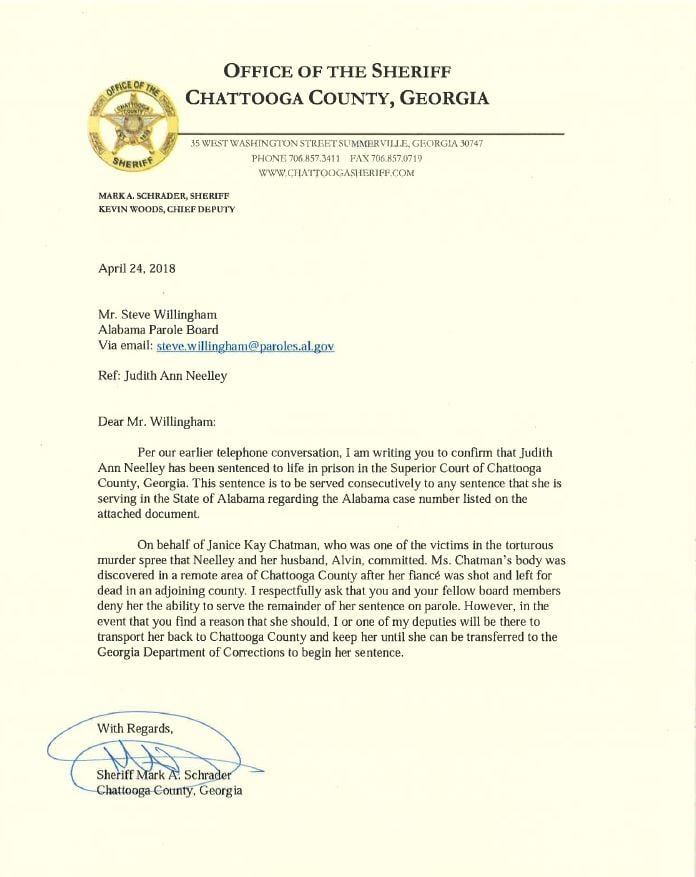 Video of Neelley from her early court appearances.