Polling station attack marks bloody election day in Pakistan
A hospital official said an explosion outside a crowded polling station in the southwestern city of Quetta killed 31 people and wounded 35 more on Wednesday, as Pakistanis voted in general elections. Jaffer Kakar, a doctor, said five police and two children were among the dead. He said the death toll could rise as many of the wounded were in critical condition.
No group immediately claimed responsibility for the explosion.
A witness who was waiting to cast his ballot, Abdul Haleem, said he saw a motorcycle drive into the crowd of voters just seconds before the explosion. Haleem's uncle was killed in the explosion.
"There was a deafening bang followed by thick cloud of smoke and dust and so much crying from the wounded people," he told The Associated Press.
Pakistanis were voting Wednesday in a historic third straight election ending a campaign marred by widespread allegations of manipulation that local and international rights group have said imperil the country's wobbly transition to democratic rule.
There are 85,307 polling stations across Pakistan and more than 11,000 candidates are vying for 270 seats in parliament and 570 seats in four provincial assemblies. Voting for two parliament seats and six seats in provincial assemblies has been postponed for a later date, due to attacks on candidates or disqualifications.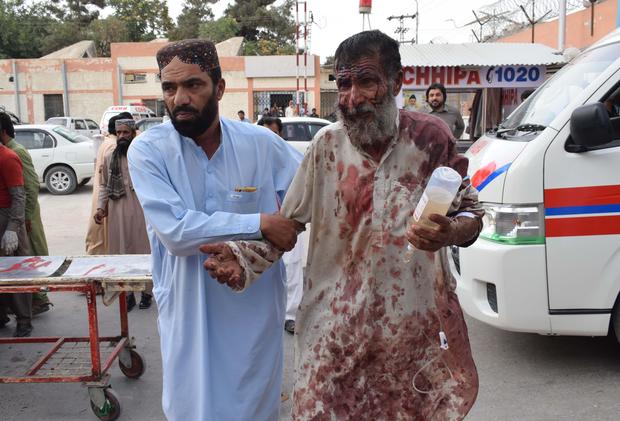 Getty
Quetta is in Pakistan's southern Baluchistan province, which also saw the deadliest suicide bombing in the run-up to election day, with 149 people, including a provincial assembly candidate, killed at a campaign rally this month.
Earlier police said a shooting between supporters of two opposing political parties had left one person dead and two others wounded in a village near the northwestern city of Sawabi. That was the first violence of election day in Pakistan.
Ahead of Wednesday's balloting, more than 170 people — including three candidates running in the elections — were killed in suicide bombings in the southwestern Baluchistan and northwestern Khyber Pakhtunkhwa provinces.
Police officer Khalid Hamdani said it was unclear what triggered the shootout between a group of supporters of the secular Awami National Party, which has often been targeted by the Taliban, and the Tehrik-e-Insaf, led by former cricket star Imran Khan, a center-right party.
Hamdani said the situation was under control and voting was underway in Col Sher Khan village.
© 2018 CBS Interactive Inc. All Rights Reserved. This material may not be published, broadcast, rewritten, or redistributed. The Associated Press contributed to this report.