Reaction to MLB moving All-Star game out of Georgia over voting law
ATLANTA, Georgia (WDEF) – Georgia's Governor is not mincing words after Major League Baseball announced they will move the All-Star game this year out of Atlanta to protest the state's new voting laws.


MLB's decision comes a week after Georgia lawmakers passed new voting protections that critics are calling voter suppression.
President Biden called on the sport to boycott the state.
Newly elected Senator Raphael Warnock endorsed the move, even though he hopes people will come to the state to demonstrate, not just boycott it.
"Businesses and organizations have great power in their voices and ability to push for change, and I respect the decision of the players to speak out against this unjust law. It is not the people of Georgia or the workers of Georgia who crafted this law, it is politicians seeking to retain power at the expense of Georgians' voices. And today's decision by MLB is the unfortunate consequence of these politicians' actions.
MLB Commissioner Rob Manfield says moving the game was best way to demonstrate the sport's values.
"Major League Baseball fundamentally supports voting rights for all Americans and opposes restrictions to the ballot box," Manfred said.
But the Atlanta Braves organization disagrees.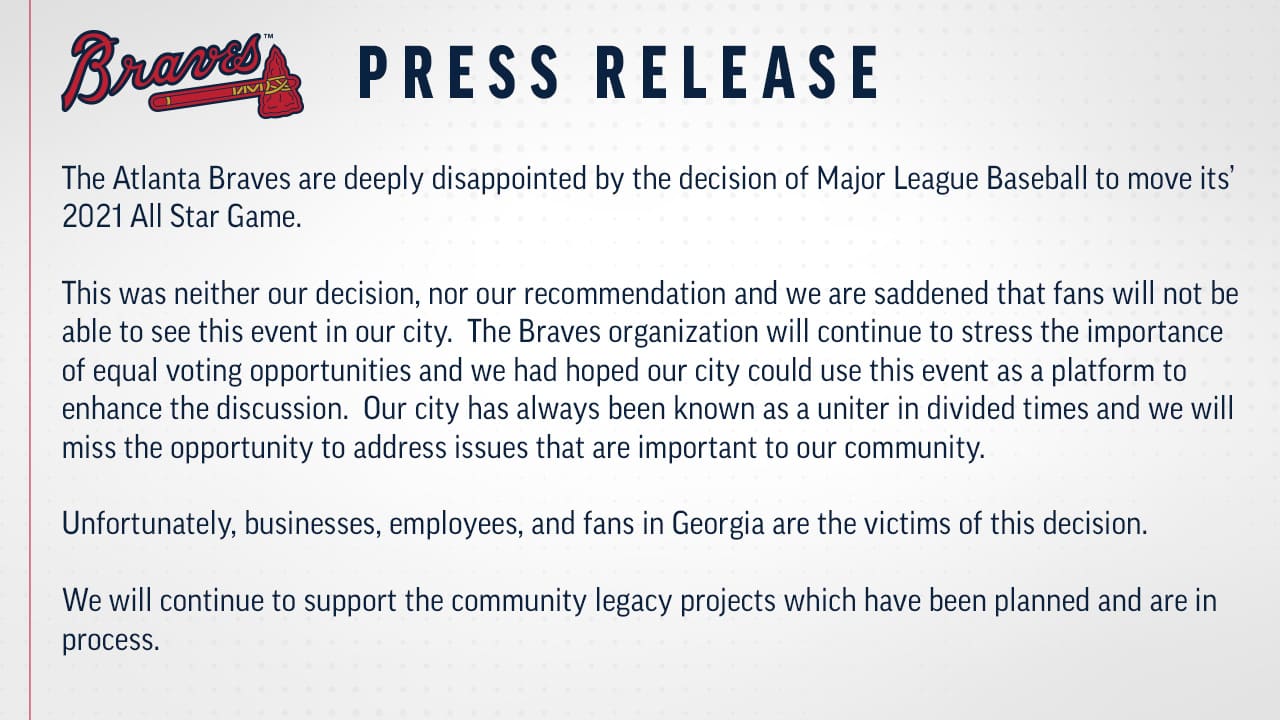 Governor Kemp says the Braves organization has also assured him that they do not support the decision.
And he posted that he will not be bullied by Major League Baseball.
"I will not back down. Georgians will not be bullied. We will continue to stand up for secure, accessible, fair elections."
"This attack on our state is the direct result of repeated lies from Joe Biden and Stacey Abrams about a bill that expands access to the ballot box and ensures the integrity of our elections."
"Georgians – and all Americans – should fully understand what the MLB's knee-jerk decision means: cancel culture and woke political activists are coming for every aspect of your life, sports included. If the left doesn't agree with you, facts and the truth do not matter."