Street artist Banksy paints Paris with murals of migrants
Anonymous and provocative street artist Banksy appears to have left his mark on Paris, painting several new works that many art experts say are a reference to the refugee crisis, The Associated Press reports.
At least seven new murals have been found over the past week, including one near a former center for migrants that depicts a child spray-painting wallpaper over a swastika. That work, according to French art site Artistikrezo, was first discovered in northern Paris on June 20 — World Refugee Day.
Banksy's publicist, Jo Brooks, confirmed to the New York Times on Tuesday that the works were his. The same day, Banksy posted a photo of a rat holding a box cutter on Instagram, with the caption: "Fifty years since the uprising in Paris 1968. The birthplace of modern stencil art."
Another image — one of a woman veiled, apparently in mourning — appeared on a side street near the Bataclan concert hall where 90 people were killed in an attack by ISIS terrorists in 2015. The stenciled mural is actually next to the emergency exit from which hundreds fled, according to The Local France.
Banksy has used his work to comment on migration and borders before. In 2015, he painted a portrait of Apple co-founder Steve Jobs on a wall in the "Jungle" camp for migrants in Calais, France. In 2017, Banksy opened his "Walled Off Hotel" in the West Bank town of Bethlehem.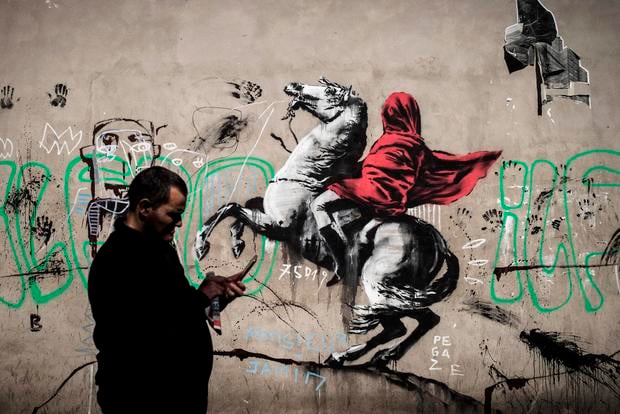 Getty
Not all of the new works directly reference migration. One is a play on a famous 1801 painting of Napoleon crossing the Alps, only in this case the figure on horseback is covered with a red scarf.
Several other works — like the one posted to Instagram — depict rats.
Because Banksy's art appears in public spaces without the protections of a museum or gallery, it's susceptible to being damaged or defaced. An AP photographer spotted one of the new works partly covered by blue paint. Another painting, depicting a rat riding a champagne cork, was cut cleanly out of the wall, according to French newspaper Le Monde.
Fans quickly tried to cover the works with clear plastic for protection.
© 2018 CBS Interactive Inc. All Rights Reserved.