Tennessee panel votes to move Confederate bust from Capitol
By KIMBERLEE KRUESI and TRAVIS LOLLER
Associated Press
NASHVILLE, Tenn. (AP) – A Tennessee panel has voted to remove the state Capitol's bust of a Confederate general and early Ku Klux Klan leader.
The Tennessee Historical Commission voted 25-1 on Tuesday to move the Nathan Bedford Forrest bust to the Tennessee State Museum.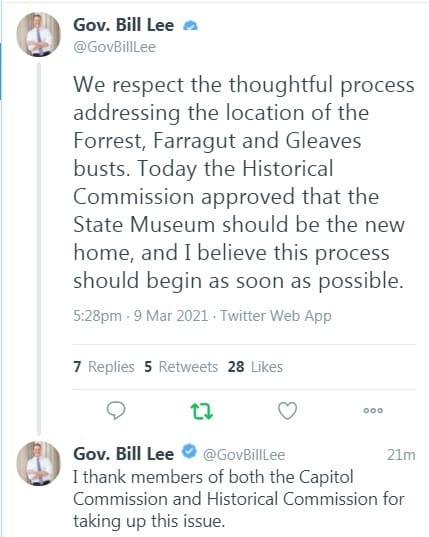 The committee said that facility is better equipped to provide the appropriate context for the bust.
The committee also stated that the interest of commemorating a long-dead historical figure was outweighed by the interest of thousands of citizens who find the commemoration hurtful.
It remains unclear how soon the removal will actually happen.
(Copyright 2021 The Associated Press. All rights reserved. This material may not be published, broadcast, rewritten or redistributed without permission.)
Tennessee Black Caucus statement on the Bust decision:
We are grateful to learn of the vote to remove the Nathan Bedford Forrest bust from the halls of the Tennessee Capitol. Currently, the bust sits in the most prominent location at the Capitol and is viewable by all that visit the Tennessee House and Senate chambers.
We thank Governor Bill Lee and all that were responsible for today's actions. While there is more to do, as a caucus we remain optimistic that this will be a great step towards healing divides and closing gaps that exist among the citizens of the great state of Tennessee.
– Rep. Antonio Parkinson, Chairman of the Tennessee Black Caucus of State Legislators