The resurfacing of busy Gunbarrel Road will last nearly a week beginning Sunday night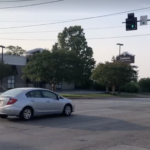 CHATTANOOGA, Tenn. (WDEF)-  The Chattanooga Division of Transportation (CDOT) will be resurfacing Gunbarrel Road beginning Sunday night with the overnight work lasting until early Friday morning.
The entire roadway between Shallowford Road and Goodwin Road will be milled, repaved, and striped as part of the 2023 Planned Resurfacing Projects.
All work will be performed between the hours of 6 p.m. and 7 a.m..
Very brief closures may occur at parking lot entrances as the crews repave the outer lanes.
The entire intersection of Gunbarrel Road and Goodwin Road will also be resurfaced.
The department of public works asks for citizens to follow all instructions from flagging teams and traffic control devices when nearing the work area.
As each lane is resurfaced, temporary striping will be in place with permanent markings installed soon after.
All construction and repaving projects are weather permitting.