Tim Kelly & Kim White neck and neck going into runoff
CHATTANOOGA (WDEF) – As expected, Chattanooga's Mayoral race is heading for a runoff on April 13th.
But the final vote was razor thin on Tuesday.
Tim Kelly held on for a narrow lead over Kim White.
When the counting was done, Kelly led White by just 273 votes out of almost 30,000 cast.
Former City Attorney Wade Hinton finished third, missing the runoff.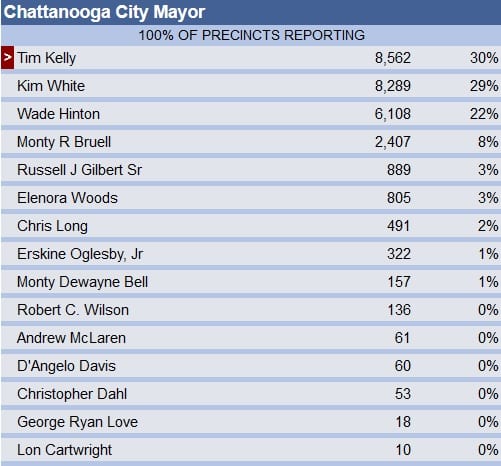 Six of nine city council members will be returning.
Russell Gilbert Sr. and Erskine Oglesby, Jr. gave up their seats to run for mayor, unsuccessfully.
Both of their districts are heading for a runoff.
Jenny Hill (46%) will face Thomas Lee (34%) in District 2.
And Dennis Clark (35%) faces Isaiah Hester (31%) in District 5.
In other watched races, Councilman Anthony Byrd defeated community activist and protester Marie Mott by 1023 to 650.
In the closest council race of the night, community organizer Raquetta Dotley defeated former RiverCity Company President Ken Hays 1333 to 1037 for District 7, replacing Oglesby.