Tropical Storm Kirk brings threat of dangerous flooding to Caribbean
Last Updated Sep 27, 2018 11:05 AM EDT
MIAMI — Tropical Storm Kirk is on a path to dump heavy rains that could bring dangerous flooding to the eastern Caribbean, forecasters said. At 11 a.m. ET, the National Hurricane Center said the center of Kirk was about 45 miles north-northeast of Barbados.
Kirk had maximum sustained winds of 50 mph and was moving ahead at 15 mph. Tropical storm-force winds are blowing as far as 140 miles from Kirk's center.
A tropical storm warning is in effect for the islands of Barbados, St. Lucia, Dominica, Martinique and Guadeloupe. The storm's center will move across the Lesser Antilles by Thursday evening on its current track.
Forecasters expect it to gradually weaken into a tropical depression after it crosses the island chain. In Puerto Rico, which was hit by Hurricane Maria last year and is still recovering from the storm, Kirk was expected to bring between 2 and 4 inches to the eastern part of the island.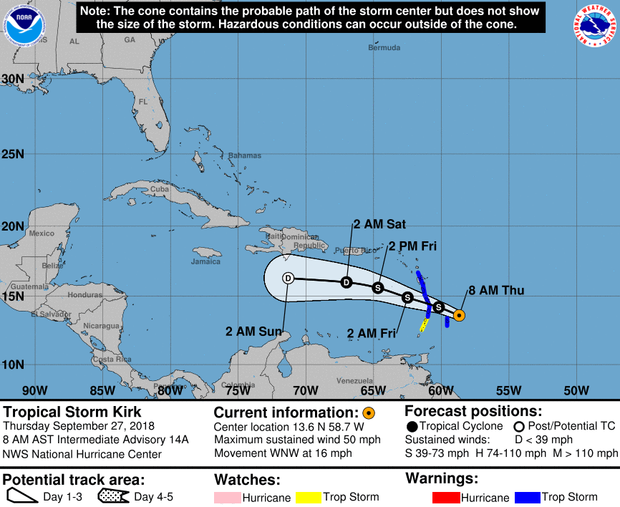 National Hurricane Center
© 2018 CBS Interactive Inc. All Rights Reserved. This material may not be published, broadcast, rewritten, or redistributed. The Associated Press contributed to this report.