Turkey's Erdogan claims victory in bid to solidify grip on power
ANKARA, Turkey — Turkey's incumbent President Recep Tayyip Erdogan has claimed victory in critical elections based on unofficial results, securing an executive presidency with sweeping powers.
Speaking in televised remarks from Istanbul late Sunday, 64-year-old Erdogan said "the nation has entrusted to me the responsibility of the presidency and the executive duty."
But the leading opposition party said it believes the results for the presidential elections are incomplete and may go to a second round. Moments before Erdogan claimed victory, spokesman Bulent Tezcan of the Republican People's Party slammed Turkey's state-run news agency for reporting that Erdogan has won enough to avoid a run-off and accused the agency of distorting the results.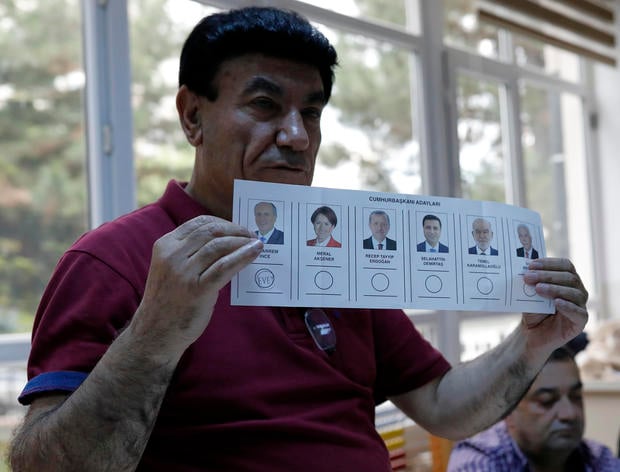 Burhan Ozbilici / AP
"There is a high probability the presidential election will go to a second round," Tezcan said. State-run Anadolu news agency had Erdogan leading the race with 52.63 percent, more than the 50 percent required to avoid a second round on July 8.
Erdogan also declared victory for the People's Alliance, an electoral cooperation between his ruling Justice and Development Party and the small Nationalist Movement Party, saying they had a "parliamentary majority" in the 600-member assembly.
Sunday's elections are putting into force a stronger presidential system, allowing the president to form the government, appoint ministers, vice presidents and top bureaucrats, issue decrees, prepare the budget and impose states of emergency.
© 2018 CBS Interactive Inc. All Rights Reserved. This material may not be published, broadcast, rewritten, or redistributed. The Associated Press contributed to this report.