U.S.-North Korea summit: Fallout continues over joint statement
WASHINGTON — A tired President Trump emerged from Air Force One earlier Wednesday, having returned to the U.S. after his Singapore summit with North Korean leader Kim Jong Un.
"Great, great three days. Thanks very much," Mr. Trump said.
The president declared on Twitter "there is no longer a nuclear threat from North Korea" and "sleep well tonight."
White House counselor Kellyanne Conway contradicted the message.
"Obviously that has to be complete, verifiable and irreversible," she said. "That will take a while."
But that language — verifiable and irreversible — was not in the joint statement signed by Mr. Trump and Kim.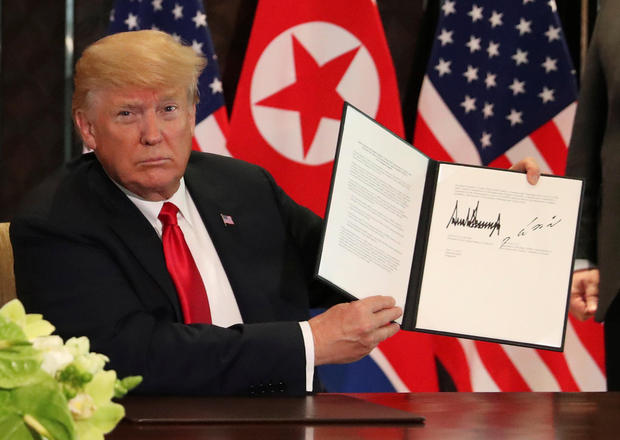 Reuters
Secretary of State Mike Pompeo — in Seoul to brief South Korean and Japanese officials — told reporters who asked why those words were not included.
"I find that question insulting and ridiculous and frankly ludicrous," Pompeo said, arguing they are implied.
Mr. Trump has tasked Pompeo with negotiating the details of North Korea's denuclearization. Wednesday, he said he expected a "major disarmament" by the end of Mr. Trump's first term.
On state media, North Korea had a different take, announcing a longer timeframe and saying Mr. Trump had agreed to lift sanctions.
As a persuasion tool, Mr. Trump showed Kim a White House produced video depicting a prosperous Pyongyang next to the U.S.
United States – North Korea Singapore Summit Video (English) (Destiny Pictures) by 0xe27b26996a6c354de04b3e14a5f5b4bccb628b2f on YouTube
The video, and Mr. Trump's embrace of Kim, has concerned many who point to his abysmal human rights record.
But Republicans defended the president's actions, including House Speaker Paul Ryan.
"It's a terrible regime, they've done terrible things and they've been deceitful in the past," Ryan said. "But it's really important that we disrupted the status quo, like the president has."
Pompeo said he expects to begin engaging North Korea in the next week or so, adding they have agreed to terms that were not officially included in the final document. That's where the next set of conversations will begin. To shore up more support, Pompeo heads to Beijing to brief Chinese officials Thursday.
© 2018 CBS Interactive Inc. All Rights Reserved.