Volkswagen dreams of the self driving future with Sedric
GENEVA, Switzerland (WDEF) – Diesel engines are the past for Volkswagen.
The future is technology.
That's how the company plans to steal back into our hearts by remaking their vehicles with cutting edge tech.
So when they revealed their self driving concept car at the Geneva Auto Show this week, is was more than a sedan without a steering wheel.
Volkswagen calls is Sedric a rolling lounge.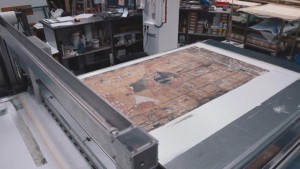 It offers four seats that face each other.
You talk to Sedric to tell is where you want to go, how to get there and when you want to arrive.
You start is with the touch of a button, voice command or app.
But Sedric can also go find a parking spot, pickup up the groceries or even the kids at school, all by itself.
Of course, we many never see this car on the road.
But at the show, Volkswagen is also promising to offer more than 30 electric vehicles by 2025.