Commissioner Whitfield talks on sole commissioner vote in Walker Co.
LAFAYETTE, Georgia (WDEF) – Walker County Commissioner Shannon Whitfield says he will stay on if voters choose to keep the current form of government.
He issued a statement on Thursday evening to quell some speculation about his future.
But he isn't campaigning one way or the other.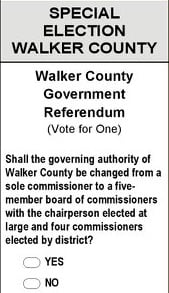 On the November ballot, Walker County citizens are asked is they want to change the sole commissioner format to a five commissioner form.
Walker County is the only one still in our area that elects just one commissioner to run the entire county.
Whitfield says he wants to leave the decision up to the voters, but he did support the change when he was running for commissioner. He does not say what his plans are if voters choose a board of commissioners.
Early voting has been heavy after the first week in Walker County.
Right now, you can only vote early at the courthouse, but locations expand beginning on October 27th.
Early voting ends in Georgia on November 2nd.