World Cup players fined over $10,000 for making hand gestures during game
MOSCOW — FIFA has fined two Switzerland players for making hand gestures of an Albanian national symbol to celebrate World Cup goals against Serbia. A third was fined for joining in the celebration.
The sport's governing body cleared them to continue playing.
Granit Xhaka and Xherdan Shaqiri received a warning and a fine of 10,000 Swiss francs, or about $10,100, for unsporting behavior, in a judgment Monday by FIFA's disciplinary panel.
Switzerland captain Stephan Lichtsteiner was warned and fined 5,000 Swiss francs ($5,050).
Clive Rose/Getty Images
The FIFA judges had the power to impose two-match bans if the actions of the players in a 2-1 win last Friday in Kaliningrad were judged to have provoked the general public.
Xhaka and Shaqiri made hand gestures of a two-headed eagle after scoring second-half goals, and Lichtsteiner joined in the celebration.
The two goal scorers have ethnic Albanian heritage linked to Kosovo, a former Serbian province that declared independence in 2008. Serbia doesn't recognize that independence.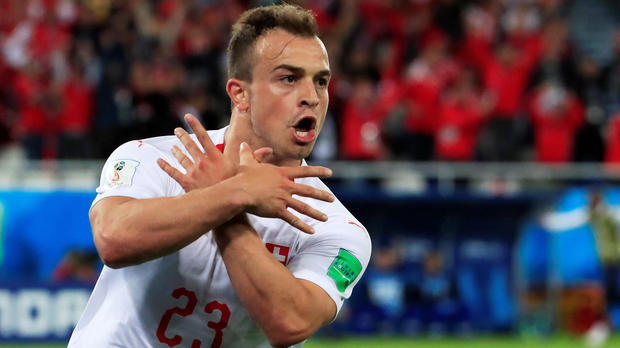 Reuters/Gonzalo Fuentes
In a separate ruling Monday, FIFA fined the Serbian football federation 54,000 Swiss francs ($54,700) for incidents involving its fans at the same game.
Serbia was charged for fans' "display of discriminatory banners and messages by Serbian supporters as well as for throwing objects during the match," FIFA said.
Both the Switzerland and Serbia teams played down any political factors before the game last Friday. Shaqiri had posted a photograph on Instagram of his playing boots, one with a Switzerland flag on the heel and the other with a Kosovo flag.
However, a tense back-and-forth game saw Xhaka level the game in the second half and Shaqiri win it with a 90th-minute goal.
Serbian officials and fans were angered by refereeing decisions during the game and FIFA issued more verdicts Monday.
Coach Mladen Krstajic and federation president Slavisa Kokeza were each fined 5,000 Swiss francs ($5,060) and warned by FIFA for "unsporting behavior due to statements made" about the referee.
© 2018 The Associated Press. All Rights Reserved. This material may not be published, broadcast, rewritten, or redistributed.