Explosion or possible fire reported outside U.S. Embassy in Beijing
Last Updated Jul 26, 2018 3:09 AM EDT
BEIJING — There appears to have been a fire or possible explosion outside the U.S. Embassy in Beijing on Thursday. A woman was detained after spraying gasoline on herself, according to official media.
Photos posted on Twitter showed a large amount of smoke and police vehicles surrounding the vast structure in northeastern Beijing.
Police didn't immediately respond to requests for comment and an embassy spokesperson said he was still collecting information.
Witnesses told the Reuters news agency they heard an explosion near the embassy and felt tremors. One witness saw Chinese police examining a vehicle outside the embassy.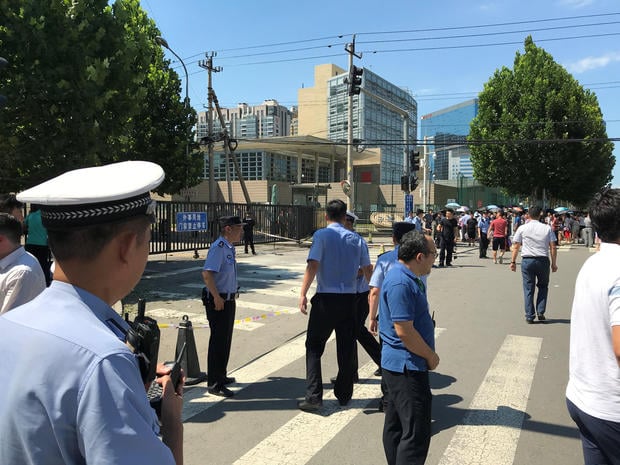 THOMAS PETER / REUTERS
The ruling Communist Party newspaper Global Times said police "took away a woman spraying gasoline on herself in a suspected attempt at self-immolation" at around 11 a.m. There were no immediate reports of deaths or injuries and, apart from a heightened security presence, traffic and ordinary life appeared to be proceeding as normal at 2:30 in the afternoon.
China and the U.S. are in the middle of a trade dispute, but America remains a hugely popular destination for travel, education and immigration for Chinese citizens.
On weekdays, large lines of visa applicants form outside the embassy, which sits in a busy corner of the city hosting numerous diplomatic installations as well as hotels and stores.
© 2018 The Associated Press. All Rights Reserved. This material may not be published, broadcast, rewritten, or redistributed.