Jeff Styles and accuser face off in court over Road Rage case
CHATTANOOGA (WDEF) – A judge has bound the assault case against radio talk show host Jeff Styles to a grand jury.
He is charged with both assault and vandalism in a road rage-type incident in June. Investigators say it began in slowed down traffic. They say after the drivers left each other on Highway 27, they met up again on Highway 153, where the incident took place.
Both Styles and the man who shot him testified in court Tuesday morning.
Styles says Nickolas Bullington threatened him while driving, giving him the finger and even brandishing a gun. He says he first encountered Bullington on Highway 111.
Bullington denied making any threats.
He says Styles provoked him by stopping in traffic and almost making him hit another car.
Styles says he felt he had to defend himself from the threats.
Witnesses say he charged the other vehicle with a military grade tomahawk and smashed it into Bullington's windshield.
Bullington then pulled a gun and shot Styles in the arm.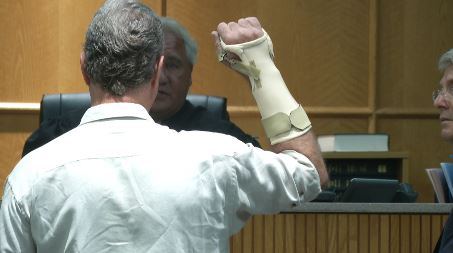 Styles was still wearing a brace in court on Tuesday from the wound.
Judge Gary Starnes ruled there was enough evidence to send the case to a Grand Jury.
Prosecutors asked us not to show a recognizable photo of Bullington, because he was getting threats after the incident.