Naptime is good business for this NYC venue
How much would you pay for a few minutes of shut-eye?
At one New York venue, the price starts at $15 per half-hour. Nap York, a chain of wellness cafes, opened in February and has been able to hike its introductory price by 50 percent since that time.
Many busy workers appreciate a chance to recharge.
"Napping is kind of my thing," said Laura Aussenberg, who works in ad sales and is a regular at the club. "So I can appreciate a good nap like… every day."
The 24-hour venue is located near two major transit hubs: Grand Central Terminal and Penn Station. In addition to nap pods, the venue includes a cafe and yoga studio.
Hector Retamal / AFP/Getty Images
Customers can choose between the small business-class pods or first-class pods for more space. The pods have phone chargers and even twinkling lights to mimic the starry night sky.
It's not the only service in New York dedicated to sleep. Apps like Recharge and DayUse let users book rooms at participating hotels for just a few hours to sleep or relax—usually at a significant discount from a night rate.
One-third of Americans don't get enough sleep, according to the Centers for Disease Control and Prevention. (Among teens, barely 8 percent get the recommended amount of sleep.) Sleep deprivation has been linked to a higher risk of obesity, blood pressure and stroke—as well as short-term impairment of the type that makes you flub up at your job.
For people who don't get enough sleep at night, a daytime nap can boost mental acuity and improve motor skills, according to research.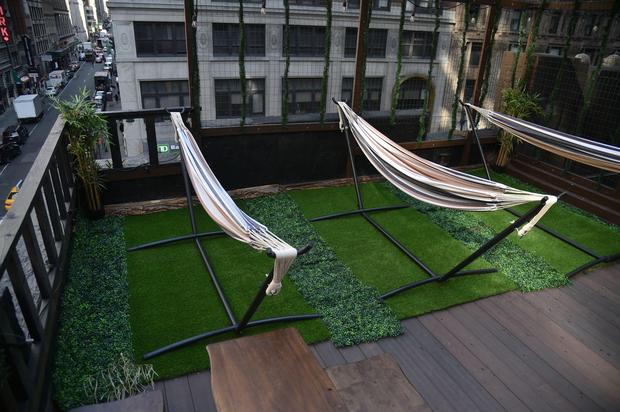 Hector Retamal / AFP/Getty Images
"Coffee is just a quick fix. Once the caffeine wears off, you're still tired," said Stacy Veloric, Nap York's director of marketing. "Taking a nap, you can actually recharge yourself and you're rebooted."
Some employers have also added sleep-friendly perks to the workplace. Companies like Google, Uber, JetBlue and Nike have incorporated nap rooms into the workplace. These rooms are usually outfitted with so-called nap pods — futuristic lounge chairs that resemble a cross between a spaceship and a 1960s hair dryer. Nap pods are an increasingly common fixture in universities and airports, but they get mixed reviews.
For Aussenberg, paying for a nap is money well-spent. "Definitely worth it. One thousand percent worth it," she said.
© 2018 CBS Interactive Inc.. All Rights Reserved.