Sheriff Hammond comments on Houston police shooting
HOUSTON (AP) – Houston's police chief says one of four narcotics officers shot while serving a search warrant at a suspected drug house has been struck by gunfire two other times during his career.
Police Chief Art Acevedo said Tuesday that the 54-year-old police supervisor, whose name hasn't been released, was also shot in 1992 and 1997. Acevedo didn't provide details of the other shootings.
Acevedo says that the officer told him in a note that he had to go into the house Monday after his colleagues were shot because he knew his "guys were down."
Acevedo described the officer as "tough as nails."
He says: "The only thing bigger than his body, in terms of his stature, is his courage."
Two suspects were killed during the raid.
(Copyright 2019 The Associated Press. All rights reserved. This material may not be published, broadcast, rewritten or redistributed.)
_____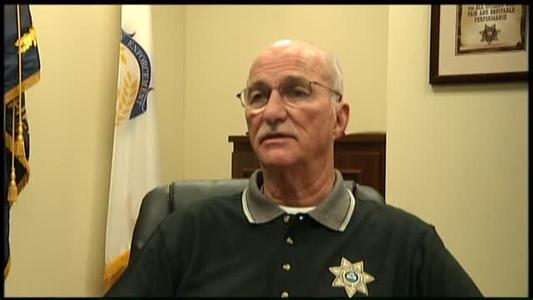 – In light of the tragic events which occurred last night in Houston that injured five police officers, Sheriff Jim Hammond would like to offer the following statement.
"As Sheriff of Hamilton County and having worked in law enforcement most of my adult life, I am deeply saddened by the tragic events that unfolded last night in Houston, Texas, that injured five police officers, two of which were critically injured. Each day, each hour, thousands of men and women across our great Nation don the uniform and badge of law enforcement and leave their homes to serve as a symbol, a beacon of hope, for justice and peace.
These men and women, dedicate their lives to protect those they call their friends, their family, and their neighbors. They are fathers, mothers, sons and daughters… Each day, they leave their homes to perform their duty not knowing if they will return.
What happened last night in Houston is quickly becoming a sad, yet normal occurrence in our nation. Each morning we learn of yet another law enforcement officer who has been injured or killed in the line of duty trying to keep our communities safe.
Those who wear the badge and protect the rule of law are at a crossroads, a place in our nation's history we have never been or seen before. Never has there been such a blatant attack and consistent contempt for those who patrol our streets and keep our citizens safe. More and more of our uniformed servants are being attacked by those who seek to do evil and hurt others.
In trying times like these, we must all remember what makes our country great… Our love of compassion, our respect for the rule of law, our ability to come together and unite, and our appreciation for those who are willing to make the ultimate sacrifice for the greater good… Despite the odds, law enforcement officers, both here at home and across our great nation, continue to perform their duty, protect the innocent, and uphold our nation's laws.
On behalf of the Hamilton County Sheriff's Office, I would like to ask our Heavenly Father to bless the officers and the families of those who were injured in last night's tragic events.
To the members of the Houston Police Department and those who were injured, the HCSO offers our support and our prayers."