Some of Queen Elizabeth's most memorable encounters with U.S. presidents
When President Trump visited with Queen Elizabeth on Friday, he became the 12th commander in chief to meet Britain's longest-serving monarch.
The queen's first presidential encounter took place 67 years ago when she was still a princess. She and her husband, Prince Phillip, hosted Harry S. Truman for a formal dinner at the Canadian Embassy in Washington — in 1951.
Queen Elizabeth's first visit with a president after her coronation was with Dwight Eisenhower. Two years later came her first state dinner for a president when she welcomed President John F. Kennedy and first lady Jackie to a lavish affair at Buckingham Palace. That's also where Richard Nixon met Her Majesty in 1969.

But it was back across the Atlantic, in 1976, that President Gerald Ford swept her royal highness off her feet – literally – when the two danced together during a White House state dinner celebrating the American bicentennial.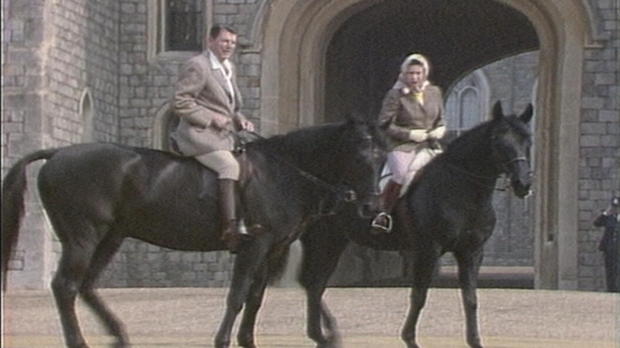 Ronald Reagan, a particular favorite of the queen, met her on four occasions. The two bonded over their mutual love of horses and famously rode together in 1982 at Windsor Castle. Reagan described that as one of the "most fun" moments of his presidency.
"The Reagans — it was a really, really warm friendship. I mean once when the queen was in California with the royal yacht it was the Reagans' wedding anniversary and she invited them around for a special wedding anniversary dinner and they all ended up around the piano singing. I mean those are very special moments that don't happen with a lot of world leaders," said royal biographer Robert Hardman.
George H.W. Bush gave the British monarch a taste of America's pastime when he invited the royal couple to catch a baseball game in 1991. The queen fit right in.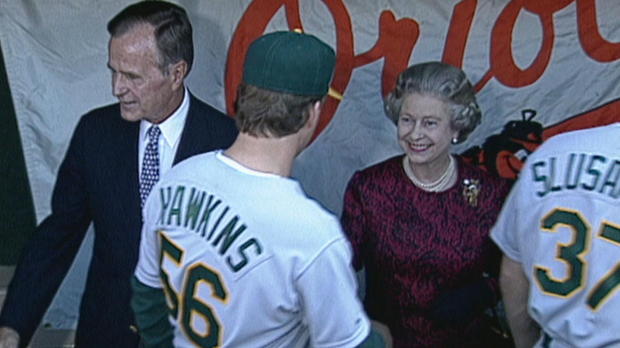 But with all the protocol involved, faux pas are bound to occur. When the queen hosted Jimmy Carter for a state dinner at Buckingham Palace, the 39th president raised eyebrows, when instead of a bow, he kissed the queen mother right on the lips. And in a toast to the queen, President Obama kept right on talking even after the band had started playing the British national anthem.
© 2018 CBS Interactive Inc. All Rights Reserved.