Thousands displaced by volcano worry for missing loved ones
EL RODEO, Guatemala — The death toll continues to rise in Guatemala following a devastating volcanic eruption. At least 69 people are dead, the government says. An unknown number of people are missing and believed to be buried in the ash.
About 30 miles from Guatemala City, the nation's capital, the Volcan de Fuego, or "volcano of fire," erupted Sunday sending a dark mix of ash, rock and gas into the air and lava flowing down its sides.
Hundreds of rescue workers are still struggling to search remote areas as conditions remain impassible in and around the volcano. In some areas the ground is so hot it can melt the soles of shoes, reports CBS News correspondent Manuel Bojorquez.
From above, the once densely vegetated area surrounding the volcano is now coated in thick, grey ash. A day after the eruption, much of the charred terrain was still too hot for rescuers to search for survivors.
In areas that are reachable, rescue teams wear protective masks and use construction equipment to navigate the dangerous conditions. Babies and children killed during the eruption are wrapped in blankets and taken to a temporary morgue to be identified.

One rescuer miraculously saved a baby buried for nearly a day.

Crews worked by land and air to save stranded people in towns close to the volcano. On Monday, Guatemalan President Jimmy Morales traveled to a hard-hit area where a woman begged him for help.

"Mr. President, my family is missing," she said. "All my brothers, my mother, all my family are there — more than 20 have disappeared."

Sunday's violent eruption left many residents with just minutes to try to escape. Government officials held off for hours on issuing a warning because they believed the threat was diminishing before the blast. Now thousands of people are staying in shelters, waiting for word about their loved ones.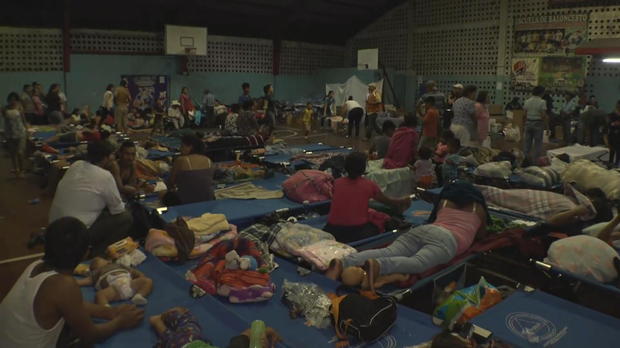 CBS News
Bojorquez and his team were allowed into one shelter set up in a gymnasium. People were putting down their cots for the night. There were men, women, children, and even pets – all displaced by the volcano.
"Do you know people who are missing?" Bojorquez asked.
"I don't know their names," one woman said. "But I know their faces. And they're not here."
While the eruption has ended, people here are not out of the woods. Heavy rainfall is hampering rescue efforts. Scientists also fear if rain mixes with new ash, it could turn into a concrete-like substance that would further damage infrastructure.
© 2018 CBS Interactive Inc. All Rights Reserved.